John 17:15 I pray not that thou shouldest take them out of the world, but that thou shouldest keep them from the evil.
When Jesus prayed that the disciples would not be removed from this world, but that they would be kept from evil.  What was He saying?  This has been a mystery for me, but as of late I believe that I have understood this in a way that I never have before.  We probably read individual versus often several hundred times in a life time and each time depending on the situation we are in they are revealed to us in different ways.  Never out of context, but the Holy Spirit shows us things that we never show before.
Jesus prayed that we would not be removed from this world but that we should be kept from the evil one.  Jesus never promised a pain free life or a life free from the burdens that come with living in a fallen world.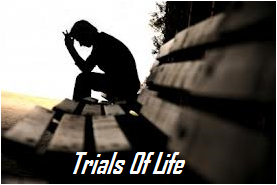 He never intended that we should not go through testing's, or trials, or even temptations because this is all a part of being in the world, but to be kept from the evil one, I think, means that even though we go through these things as a result of being in the world they will not over take us.  We are not kept from the world and the afflictions of this fallen world but He keeps us from being changed or destroyed by the evil of it, or the evil one, the devil our adversary.  Can we be destroyed?  The answer is yes, it is possible, but as long as we trust in Him and walk in His ways and according to His purpose trusting in Him in every step, He will keep us from the evil one.
Proverbs 3:26
For the Lord shall be thy confidence, and shall keep thy foot from being taken.
For some that victory comes in an answered prayed, a physical rescue, and for others that victory comes when we cross over into eternity.  We do not know the way but we must trust in His plan and what His word says. Remember no matter what you go through, as painful as it may be the purpose of the fire is to root out everything that is not of Him.
The apostle Paul who we know to have suffered in indescribable ways for the furtherance of this gospel described afflictions this way.
 2 Corinthians 4:17
For our light affliction, which is but for a moment, worketh for us a far more exceeding and eternal weight of glory;
He does not say this heavy affliction, or this horrible affliction, but he chooses to call his many afflictions which were heavy and horrible, light.  Even as I write these words I am heavy and burdened down with afflictions that I cant describe in words.  My heart morns and my eyes have no more tears to cry.  Even in my afflictions, they do not compare to Pauls, and yet he says for our light affliction, which is but for a moment, is working for us a far more exceeding and eternal weight of glory.
I stand in awe of those words; I must believe this and walk in this.  There is an eternal plan for us and no matter what we go through, compared to eternity it is a light affliction and it is working for us and will prove to be worth it all.