75 We give thanks to you, O God; we give thanks, for your name is near.  We[a] recount your wondrous deeds.  2 "At the set time that I appoint I will judge with equity.  3 When the earth totters, and all its inhabitants, it is I who keep steady its pillars. Selah
4 I say to the boastful, 'Do not boast,' and to the wicked, 'Do not lift up your horn; 5 do not lift up your horn on high, or speak with haughty neck.'"  6 For not from the east or from the west
and not from the wilderness comes lifting up, 7 but it is God who executes judgment,
putting down one and lifting up another.  8 For in the hand of the Lord there is a cup
with foaming wine, well mixed, and he pours out from it,  and all the wicked of the earth shall drain it down to the dregs.  9 But I will declare it forever; I will sing praises to the God of Jacob.  10 All the horns of the wicked I will cut off, but the horns of the righteous shall be lifted up.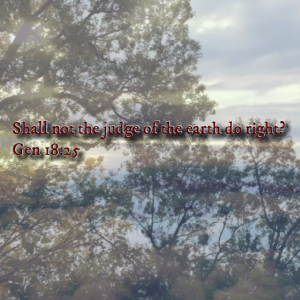 As humans, with the limited mind and understanding that we have been given by God we think more highly of our intellect that we should.  If we cannot understand why then we judge God of being unfair or wrong, or we are just angry that God allowed such a thing.  When something happens in our life that is tragic or hard to deal with, our fallen nature tends to need to blame something or someone.  Most often we blame God.  We just cannot comprehend that because of this fallen nature and because of sin, bad things happen to good people.  We cannot wrap our mind around this.  In actuality none of us are good people, because of sin we are filthy rags in our best condition, which is why we need Him.  We are only clean when we are in Him, yet this carnal nature still has to live in this fallen world with other fallen people who do not adhere to Christian standards and beliefs.  Living in a sinful world and means that sometimes other people's sin affects us.
This is why bad things happen, and yes even to us Christians.  This is proven time and time again in scripture, we see Christians suffering.  They suffered through trials and just plain old life circumstances.  The questions is this:  can God get as much glory out of some one suffering through a life circumstance as He can from, let's say a martyr?  I think the answer is yes.  We often rank the things we go through.  We also compare them with other people and the things they have gone through.  Many of the apostles suffered from the hands of people who hated them just because they were Christians.  I personally do not know what that feels like.  But I do know what it feels like to be tested by life's circumstances to the point I was in despair and almost in a state of depression.  But I have and am overcoming, I have a testimony.  I have known people who have lost children and now have great testimonies of emotional healing.
I have known people who have suffered financially through no fault of their own and now have a testimony of God's restoration.  We all go through so many things in a lifetime and not all of us go through the same thing, but God can get the glory out of all of it the same way He can get glory from a fallen saint that is physically persecuted.    My point is this, God is in complete control.  He will judge rightly and in His time.  We all through things while we are here because we live in a fallen world, but the righteous will be exalted.  This is His promise and He will not fail to come through.  We can trust in Him and He demonstrates his power and authority by saying in verse 3, when the earth totters, and all its inhabitants, it is I who keep steady its pillars.  What an all-powerful God we serve, He will judge in His time and with equity.
Remember, whatever you may be going through, or what you will go through in the future, do not try to apply blame, even though there may be an offender.  This may take time, but give it all to Him and know that He will judge, and His judgment will not fail, it will be perfect.  May the Holy Spirit give you grace in your trial and the knowledge that all things work together for good to them that love God, to them who are the called according to his purpose.  Romans 8:28