Galatians 5:1 AMP
5 It was for this freedom that Christ set us free [completely liberating us]; therefore keep standing firm and do not be subject again to a yoke of slavery [which you once removed].
I want to begin this blog by saying this, "God does not owe us anything".  We have come to a place in our American culture where we think that we are owed something.  We have the mentality that since we are born again that God somehow now owes it to us to "keep" us.  If He keeps us, it is not because He owes us, He keeps you and me because He loves us.  It is a fact that we expect God to do everything for us without us having to move, but this is not the case.  We are His people and as such we have been promised the victory, but that does not mean that we will never have to pick up the sword and fight.  I cannot have the victory over the enemy if I am content to be a couch potato.  If it seems good to me to sit at home and be fed by that TV, or by that phone without ever having to get up and put on the whole armor of God then I am doomed to be defeated.
Laziness has never got a man or w
omen anywhere, in the physical or spiritual.  Laziness has plagued the church, and procrastination has crippled it.  We put off for tomorrow what we needed to deal with today. This is not a diet or meal plan that we are messing with, this is your eternal life that is at stake.  We must arise in this final hour and be what His word says we should be and that is soldiers of the cross.  Do not be subject again to a yoke of slavery.  "Be ye Holy, as I am Holy", is a scripture verse that we run away from because it is too hard.  I cannot be Holy and that is a fact, but this scripture is, in fact, saying "strive to be Holy, as I am Holy.  A man or woman of God who is striving to be Holy has no time to turn around in this race and see what's going on behind them.  They have no time to mess with   this world and its philosophy, but rather they run this race striving for Holiness because He is Holy.
There are so many things in scripture that we know, but because they seem  too difficult we overlook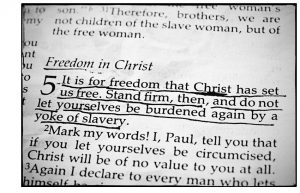 them or try to explain them away as if God will be fine with it.  I can tell you from personal experience that He is not ok with you overlooking what He is trying to get you to deal with in your life.  When we deal with the hard questions that the Holy Spirit presents to us we can begin to heal, but it is only when we deal with it and answer the question honestly, can that healing begin.  A man or woman who suffers from an illness will never recover until they admit that they are sick.  Once they admit they are sick then they can begin the recovery process, or be healed.  For you to say you are not sick when you are, only stalls the healing.  And spiritually when you will not admit that sin is making you ill then you will remain ill.  There are so many people today who are in denial about their current situation.  It seems as though we are living in an age where people do not want to know if they are wrong.  It seems that we think we cannot be held accountable for something that we are not aware of.  This is a lie from hell, a lie that has paralyzed the church into a form of godliness that denies the power thereof.  We must, as the scriptures say, come out from among them and be ye separate.  It is imperative that we live from day to day as close to God as possible.  This is the only way we will see the tide turning, living close to Him is the only way we will obtain His victory.    If today, you know for a fact that the Holy Spirit is dealing with you about something, do not run from it, but deal with it.  Oh how He loves you and me, He will forgive, He will heal and you can be free today.  Keep standing firm and do not be subject again to a yoke of slavery.  Amen